The Mt Baker Airfield is located in the beautiful North Fork Nooksack river valley in the farthest NW corner of the United States at the base of Mt Baker and the North Cascades. It is sited between the Nooksack River and the Mt Baker Highway between the villages of Glacier and Maple Falls and can be readily identified with a map earth search for 8040 Mt Baker Highway. The use of this property as an aircraft landing area was first established in 1973 and has been grandfathered locally as a private airfield as of the year it was first established by the owner. At this time it is not listed on FAA charts.
Airfield Information:
Elevation: 565 ft MSL (estimated)
Runways: 04 north, 22 south
Length: 1,500 ft
Surface: Turf, in good condition
Dimensions: 1,500 x 45 ft.
Traffic pattern: left
Wind Socks: At center field and at West end
Owner/Manager: Wm Devine 360.599.2927

REMARKS:
- OBSTRUCTIONS TALL FIR TREES
- LANDING TO THE NORTH (04)OVER MT BAKER HWY IS
PREFERRED, WIND PERMITTING
- MOUNTAINOUS TERRAIN SURROUNDS FIELD
- WATCH FOR DEER, BEAR, EAGLES, GEESE, PEOPLE ON THE FIELD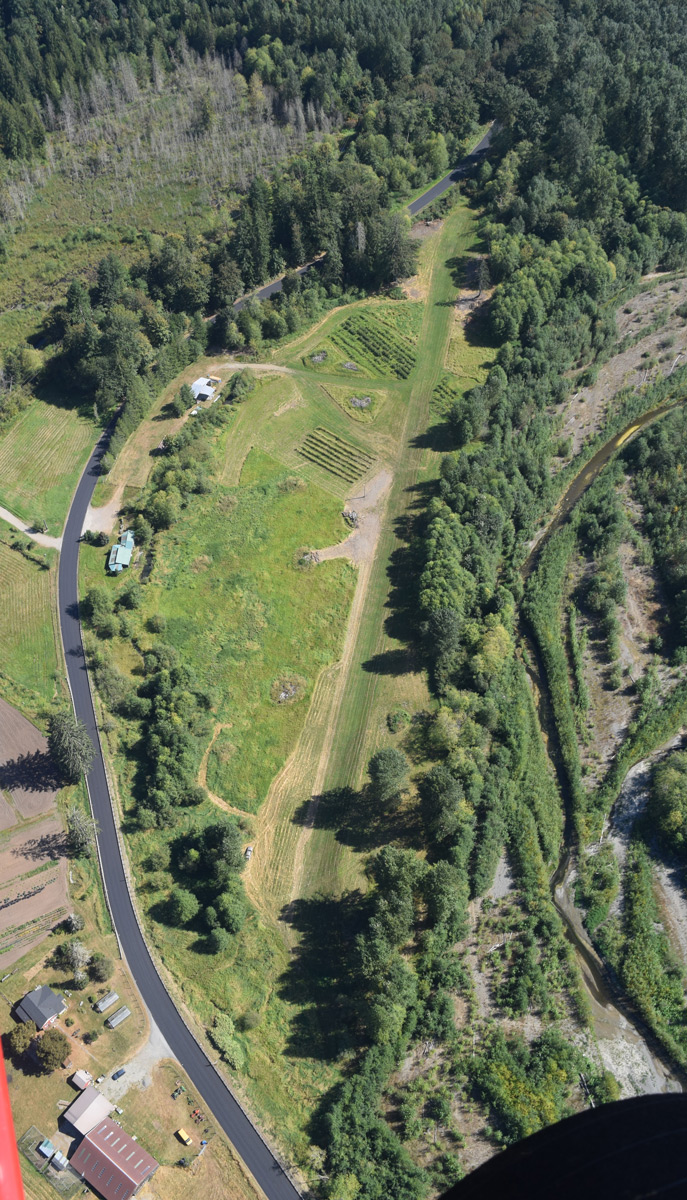 Airfield Use:
The Mt Baker Airfield is a private field and may be used with permission for fly-in lodging, riverside camping, Blueberries or to just drop in to say hello and enjoy the flying adventure.

The photos below depict the general geographical and approach features.
---
For additional lodging and Mt Baker information follow these links:
---